DEPUTY INSPECTOR GENERAL OF POLICE
Shri. Parmaditya, IPS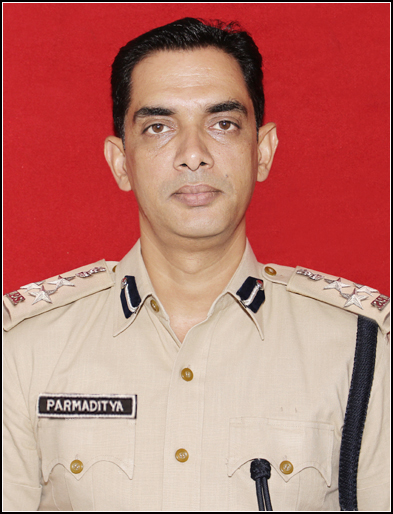 Shri. Parmaditya, IPS joined Indian Police service, in the year 2005. On incumbent as Police Officer, Served Delhi Police as Assistant Commissioner of Police. Later, on promotion as Addl. DCP-I, worked at West District, Delhi and at South West Delhi as Addl. DCP, for two years.
During Commonwealth Games 2010, was entrusted with the role of Venue Commander, wherein, the Union Home Minister of India, was pleased to award letter of appreciation for splendid job in ensuring foolproof security during the event.
For better service prospect, has undergone course on "latest Technique in forensic investigation" and "Tactics/TOT on Tactics 7". Has also done Post graduation (M.A), from Rajasthan University, Jaipur and has further done Masters in Police Management from Osmania University Hyderabad.
Served as Commandant IRBn & SP Lakshadweep for almost three years. Has also served as DCP, Central District, Delhi for almost two years and detection of crime was optimum during the said tenure, for which the commissioner of Police, Delhi, was pleased to award letter of appreciation.
Looked after the charge of DCP/Prime Minister security. Before being posted to Goa, had worked in Training Unit of Delhi Police and around 4000 officers were trained and successfully passed out during the said tenure.
In June 2018, a certificate was awarded during 21st Interpol Police Training symposium organized for the capacity Building and Training at Asan city Republic of Korea.